One hundred years later
One hundred years after writing her first novel, Georgette Heyer's beloved novels are still in print and finding a new generation of avid readers. It is a remarkable achievement for a writer who has been dead for nearly 50 years but there are good reasons for her enduring popularity and for the enormous popularity of the Regency genre she created. Put simply, Georgette Heyer was a superlatively good writer and the period in which she chose to set her most successful novels remains one of the most romantic periods in literature.
The English Regency
Strictly speaking, the English Regency only lasted nine years. From 1811 to 1820, when George III had been declared mad, his son George (later George IV) ruled as Prince Regent in his father's stead. Georgette Heye wrote 26 novels set specifically within that period. Modern Regencies, however, are usually set anywhere within the period of 1780 to 1830 – the years of Prince Florizel's influence. My favourite Heyer novels are the Regencies and Georgians. I recently re-read Devil's Cub and tried to read it slowly, to savour each word and absorb the nuances of character, conversation and comedy, but one of the compelling aspects of Georgette Heyer's books is their power to draw you into the story, embroil you in the characters' adventures, conflicts, triumphs and tragedies; to bring you to laughter or to hit you between the eyes in sentence or two in which she brilliantly sets a scene or delineates a personality.
The first lines of Devil's Cub
'There was only one occupant of the coach, a gentleman who sprawled very much at his ease, with his legs stretched out before him, and his hands dug deep in the capacious pockets of his greatcoat. While the coach rattled over the cobbled streets of the town, the light from an occasional lantern or flambeau momentarily lit the interior of the vehicle and made a diamond pin or a pair of very large shoe-buckles flash, but since the gentleman lounging in the coach wore his gold-edged hat titled low over his eyes, his face remained in shadow.'
Two sentences, that's all, but we are already intrigued. This must be our hero and already we know that he is wealthy, tall, completely at ease, in a private coach and it is at least a hundred years ago. Part of Heyer's genius was her ability to convey a great deal of information with brilliant economy. She could deliver a personality in a sentence, a relationship in two and a whole world in a paragraph. Often and often you'll come across a scene or piece of dialogue where every word carries its weight in gold. It's one of the things I love about Georgette and one of the reasons she endures.
Why Georgette Heyer endures
But there are other reasons and after years of research and writing about her I've managed to identify what I think are the five main reasons why Georgette Heyer and other Regency writers continue to sell in large numbers around the world:
She wrote great stories
She wrote great stories. Page-turners that draw you into a world that feels real. The stories stay with you long after you've closed the book and frequently demand re-reading. There is always romance and it is often coupled with adventure or mystery or intrigue. Georgette worked hard at her plots and she was the perfect mix of 'plotter' and 'pantster': a writer who would first create her characters in her mind, then devise a context for them and, once those elements were clear in her head, would start writing. Once devised her characters became so real to her that she heard their voices in her head, dreamt about them and struggled to recognize them if she ever had alter their name. Brought to life in her mind, her characters would take up the reins of their story and drive her until she had written it. Heyer often said that her novels 'practically wrote themselves' and she had an extraordinary ability for writing quickly and easily – sometimes penning a complete (final draft) book in a couple of months. She was a compulsive writer and liked nothing better than to be completely immersed in a story: 'suddenly an Idea will burst upon me – after which I shall forget that I'm a Sister and a Housewife, and shall plunge deep into the early XIXth Century, and be lost to Society until I have written THE END!' Each of her novels has something that sets it apart from the rest and they are all of a consistently high standard. We have only to think of The Talisman Ring, The Grand Sophy, Sylvester, Friday's Child, Black Sheep, or Frederica among many others to be convinced of Miss Heyer's remarkable story-telling ability.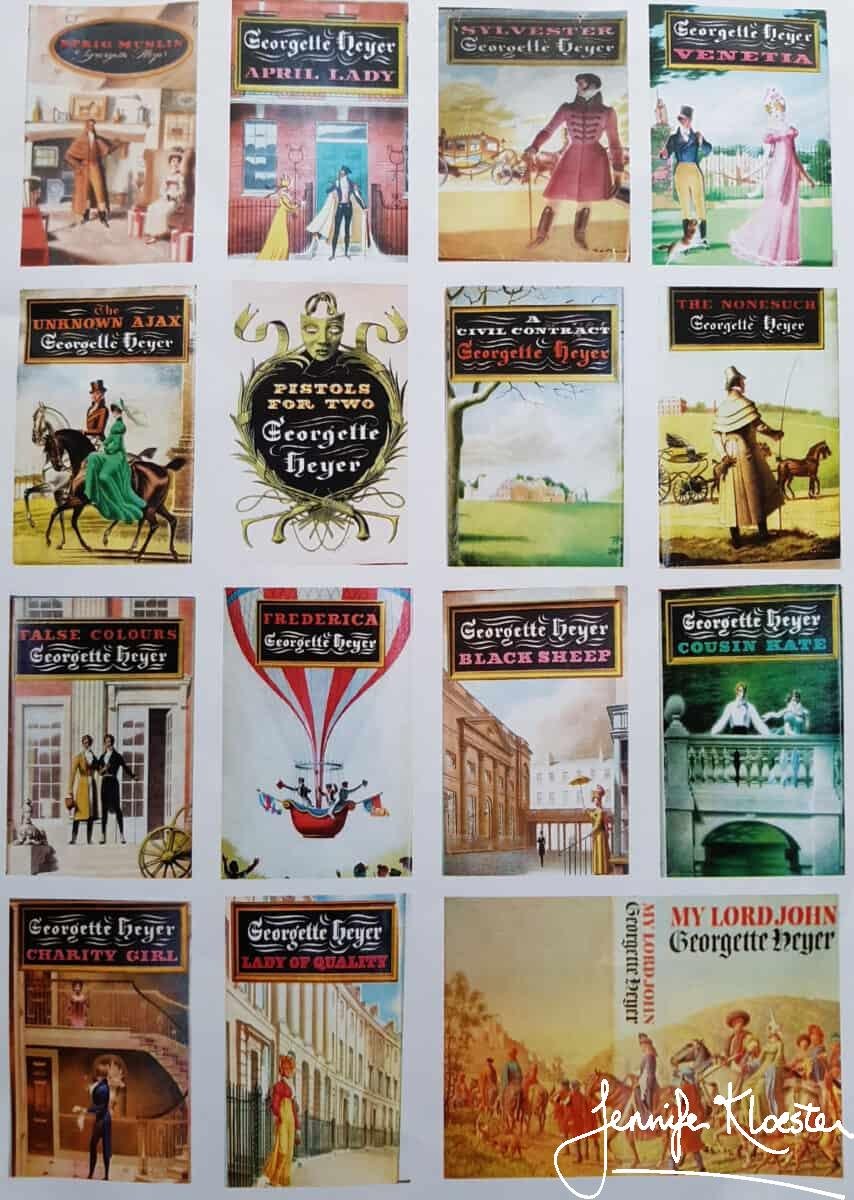 Brilliant at romance
The Romance. It gets us every time and is one reason why the genre enjoys such vast success. After all, is there anything more romantic than a devilishly handsome man in hessian boots, pantaloons, a tight-fitting coat and a snowy cravat? Unless it's a man in top-boots, breeches, a well-cut coat and a carelessly knotted cravat! And then there are the women – those strong-minded, feisty individuals who hold out for love and yet are frequently surprised by the man who sweeps them off their feet and turns out to be, not the hard-hearted rake or the world-weary cynic the world has thought them, but a man of passion and heart and honour. These men and women and their families, friends and servants populate a world of manners and fashion: they ride horses and drive carriages, live in grand ducal piles, on country estates, in bachelors' chambers in Albany or Mount Street or in more modest accommodation in Bloomsbury or Hans Town. They attend court presentations, evenings at Almacks, prize-fights, military parades, balls, parties, the theatre and the opera. And they are often prey to drinking, gambling, debauchery and seduction. It's a moneyed world, where scandal abounds and the polite world will tolerate even the worst excesses so long as the perpetrator is noble enough or rich enough to escape censure. It's a world of romance and excess, of political and social change, of military campaigns and growing industrialization. For the author and the reader it is a world of endless possibilities.
She wrote great heroes
We love Heyer's heroes and it is almost impossible to choose an absolute favourite. She was brilliant at creating characters who live on long after the last word is read and I have had women of all ages (even in their nineties) practically swoon at the mention of Justin Alastair, Duke of Avon, or his son, Dominic, Marquis of Vidal. But GH didn't only write the handsome, world-weary hero she also wrote the pragmatic, outspoken, supposedly unromantic hero like Sir Tristram Shield in The Talisman Ring, or Max Ravenscar in Faro's Daughter, Charles Rivenhall in The Grand Sophy, or Miles Calverleigh in Black Sheep; she created tall, dependable heroes: Hugo Darracott in The Unknown Ajax, the Marquis of Alverstoke in Frederica and Sir Richard Wyndham in The Corinthian; she wrote about gentle heroes: Gilly, Duke of Sale, in the Foundling, Adam, Viscount Lynton in A Civil Contract, Gervase Frant in The Quiet Gentleman and Sir Gareth Ludlow in Sprig Muslin; and there are saturnine heroes such as Sylvester, immensely wealthy heroes like Mr Beaumaris in Arabella and dangerous rakes like Jasper Damerel in Venetia. Georgette even wrote the unlikely hero – Freddy Standen of Cotillion remains a firm personal favourite. She had her own rules and her heroes are all well-born – though not always of the nobility. They vary a lot in shape, size, looks, manners and wealth, and though they may dress impeccably or with casual disdain for their appearance, each of them in some way satisfies our romantic longings. I have tried to work out how she does this – how does any successful Regency writer do it? Here are a few excerpts to evoke that satisfying frisson in the reader and which may help explain what makes a successful hero.
'His Grace of Avon swirled about, gripping his assailant's wrists and bearing them downwards with a merciless strength belied by his foppish appearance. His victim gave a whimper of pain and sank quivering to his knees.' '

He began to laugh again, and walked forward. "Shoot then," he invited, "and we shall know. For I'm coming several steps nearer, my lady."' '

I will not allow you to dictate to me, now or ever, Miss Morville! I mean a robin!' said the Earl firmly, lifting her hand to his lips.'

'Charles!' uttered Sophy, shocked. 'You cannot love me!' Mr Rivenhall pulled the door to behind him, and in a very rough fashion jerked her into his arms and kissed her. 'I don't: I dislike you excessively!' he said savagely.' '

He stretched out his hand, and when she laid her own in it, held it very tightly.

'You shall have a splendid orgy, my dear delight, and you will enjoy it very much indeed!' '

Here, take this dashed bonnet off! How the deuce am I to kiss you with a lot of curst feathers in my face?' '

When I asked you at Brancaster I held you in affection and esteem, but I believed I could never be in love again. I was wrong. Will you marry me, my dear and last love?' '

The Darracotts were a tall race, but the man who stood on the threshold dwarfed them all. He stood six foot four in his stockinged feet, and he was built on noble lines, with great shoulders, a deep barrel of a chest, and powerful thighs.'

Georgette Heyer, selected novels
She wrote great heroines
The heroines are every bit as important to the success of the Regency romance and Heyer's novels abound in memorable women who must navigate the pitfalls of Regency society in order to find true love. I love Heyer's heroines in all their different forms, from Mary Challoner in Devil's Cub: 'Yes? But then, you chose puce.' To Judith Taverner in Regency Buck: 'But I must warn you, sir, it is not the fashion to be seen talking to me.' to ' Hester Theale in Sprig Muslin, 'Gareth!' said Hester, in an awed voice. 'You must own that Amanda is wonderful! I should never have thought of saying I was your natural sister!', to feisty and impulsive Arabella: 'I,' said Arabella, a most dangerous glitter in her eye, ' am Miss Tallant!' and orphaned Kitty Charing: 'Freddy, you are quite sure you don't want to marry me, aren't you? Then, Freddy, will you be so very  obliging as to be betrothed to me?', Sophy Stanton-Lacy: 'I am going to do what I have been wanting to do ever since I was told I must not, on any account!' replied Sophy. 'It is with me a kind of Bluebeard's chamber,' and Frederica who cannot stop herself from pointing out to the hero that 'it was Restorative Pork Jelly!' before finally discovering: 'Only – is it being – not very comfortable – and cross – and not quite happy when you aren't there?' 'That, my darling,' said his lordship, taking her ruthlessly into his arms, 'is exactly what it is!'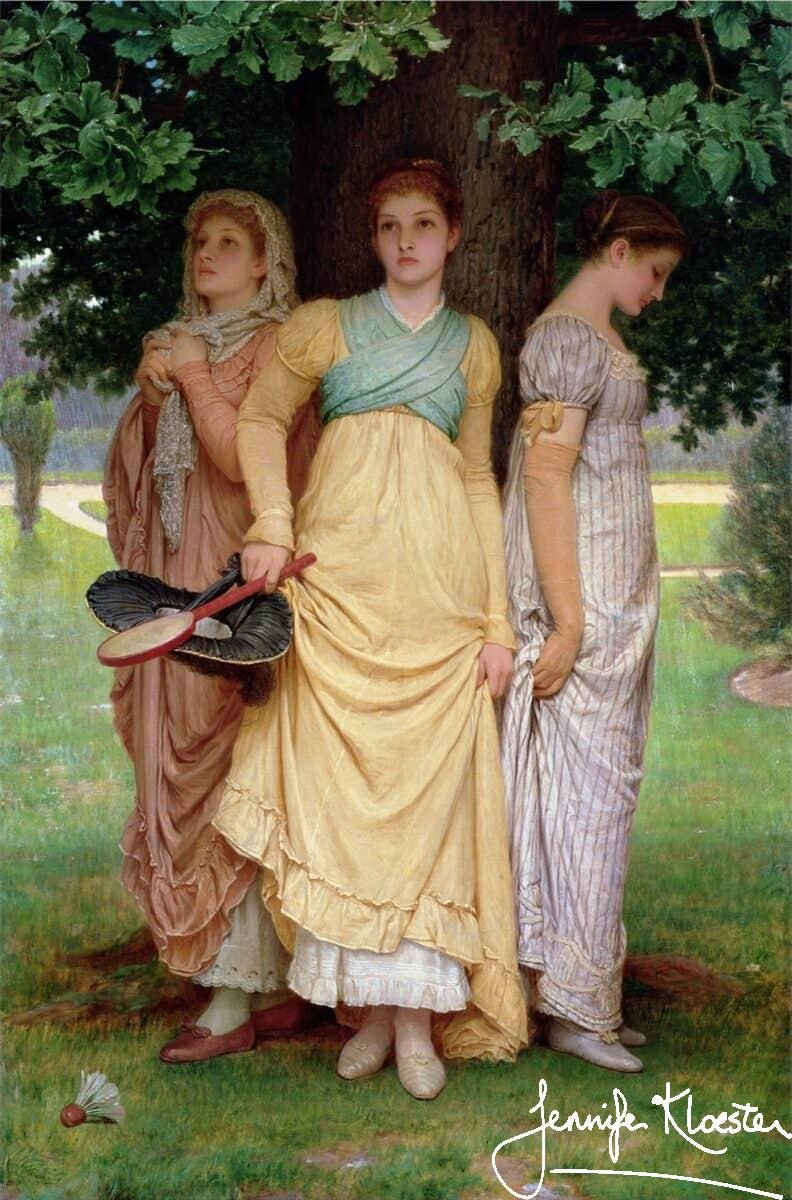 She wrote great comedy
Which leads us to the final, eternally appealing element of GH's novels: Comedy. She sometimes described her comedy as being 'a mix of Sheridan and Austen' and she is undoubtedly a master of ironic humour. Heyer had a rapier wit and a shrewd and incisive eye for human foibles and frailties. Her personal letters are full of pithy remarks and she is often cutting. She is kinder in her novels, but she loves to puncture a sentimental moment or turn it on its head and it is her ability to make us laugh that is another reason why we return to her books again and again. There is humour throughout the novels but it is her secondary characters that are frequently the vehicle for some of her best comic writing: think of Charis and Endymion in Frederica or Jonathan Chawleigh in A Civil Contract, Claude in The Unknown Ajax, Ferdy and the delicious running gag over his struggles with Nemesis (whom he had known at Eton!). The Talisman Ring abounds in LOL moments: compliments of Sarah Thane and her brother Sir Hugh as well as the hapless Bow Street Runners, the all-too-casual Ludovic Lavenham and the adoring Eustacie. There are far too many humorous moments to recite here so I will mention only two. The first is a character who appears only once in The Foundling– and then all-too briefly – but he is so perfectly depicted that we feel we know him intimately:
'Sir Timothy looked at him in melancholy wonder. "I suppose I must have liked you once," he said plaintively. "I like so very few people nowadays; in fact, the number of persons whom I cordially dislike increases almost hourly."'
And the second is an exchange between Lady Denville and the wonderfully corpulent Sir Bonamy Ripple in False Colours:
'He then surged out of the room, just as Lady Denville, looking like a water-nymph, in a dressing-gown composed of layer upon layer of diaphanous material dyed in every shade of green, emerged from her own bedchamber.

He shrank instinctively, but she positively recoiled, gasping: 'Great Heavens–! Bonamy!' Overcoming his discomposure, he said, putting a bold face on it: 'Not wearing my corsets! I know you don't like 'em: you told me so!'

Recovering from her initial shock, she floated up to him, laying a fragile hand on his arm, and saying: 'Dearest friend, you must be mistaken! How could I have said such a thing?'

'No, I'm not,' asserted Sir Bonamy, fixedly regarding her. 'you begged me to give up strait-lacing!'

'I must have been mad!' said her ladyship.

'And,' continued Sir Bonamy, hope in his eyes, 'you said I creaked!' '

Now, that,' conceded her ladyship, 'I do recall! But don't give it another thought, my dear! I have grown perfectly accustomed to it! Never abandon your Cumberland corset, I beg of you!'

'You know what, my pretty?' said Sir Bonamy, care wiped from his brow. 'You've taken a weight off my mind! Damme, if I am the happiest man alive! Bless you, my lovely one!'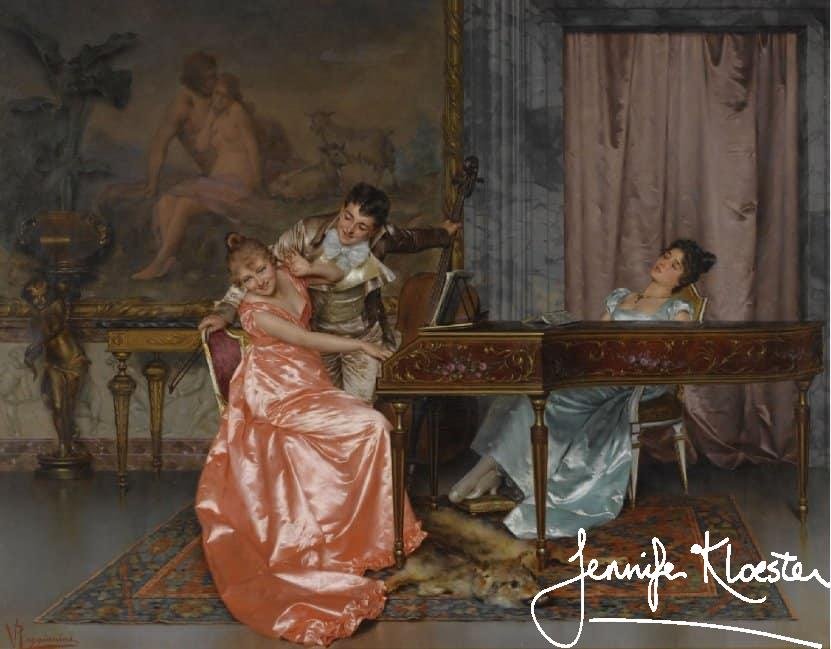 A wonderful legacy
Georgette Heyer left us a wonderful legacy of humour, romance and compelling story with unforgettable heroes and heroines. Today we reap the benefit of her canon of Regency and Georgian novels in the work of bestselling Regency authors such as Stephanie Laurens, Eloisa James, Julia Quinn, Anne Gracie, Lisa Kleypas, Mary Balogh, Grace Burrowes, Christina Brook, and many others. Long may the genre that is the Regency Historical Romance live!