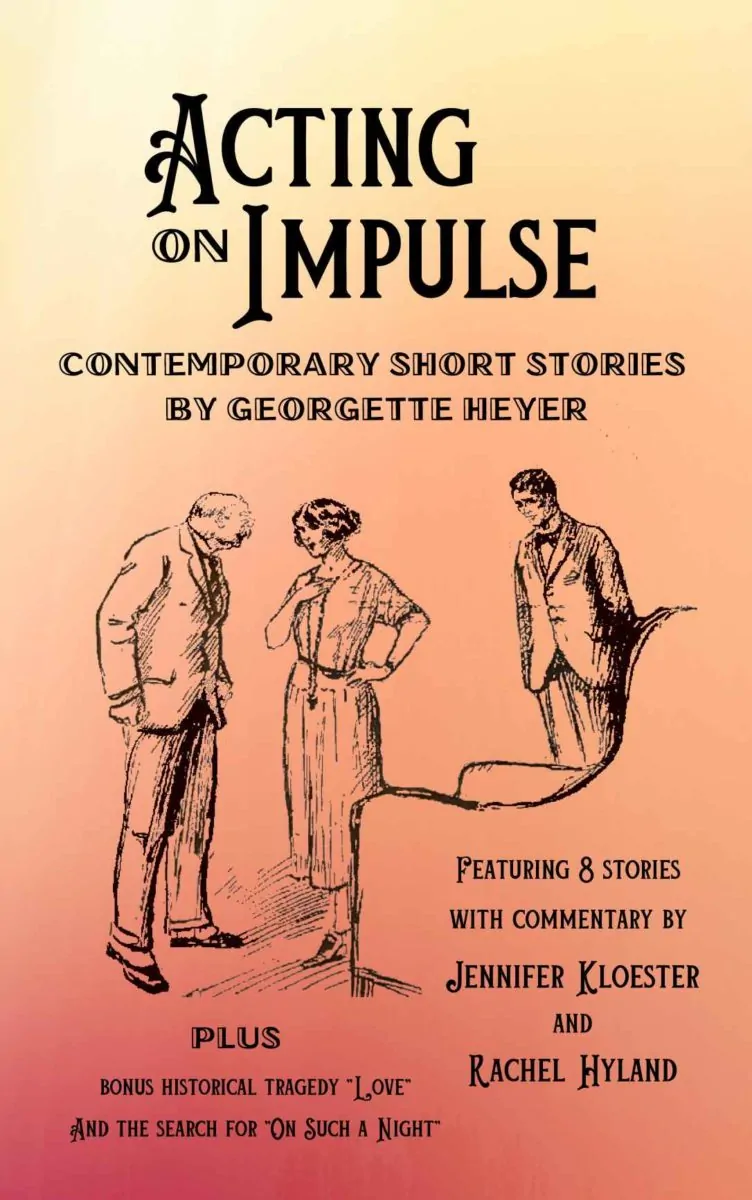 Acting on Impulse: Contemporary Short Stories by Georgette Heyer
In the 1920s, Georgette Heyer wrote a number of contemporary short fiction pieces, published in various women's and literary magazines of the era. Now, for the first time ever, these stories are collected in this fully-authorised anthology, with commentary by Heyer's official biographer, Jennifer Kloester, and Reading Heyer's Rachel Hyland.
Georgette Heyer: Biography of a Bestseller
With unprecedented, exclusive access to Heyer's notebooks, private papers, and to several previously untapped archives of her early letters, Jennifer Kloester uncovers both the complex life of a private woman and a masterful writer's craft that will forever resonate in literature and beyond.
Georgette Heyer's Regency World
As much fun to read as Heyer's own novels, beautifully illustrated and meticulously researched, Jennifer Kloester's essential guide brings the world of the Regency to life in this utterly delightful and fun read. Compelling in its historical detail, this is a must-have for Georgette Heyer and Jane Austen fans alike.
The ultimate, definitive guide to Georgette Heyer's novels.
AN AUTHOR AND PUBLIC SPEAKER
Jennifer Kloester loves books. An Australian author of both fiction and non-fiction, Jennifer has written extensively about bestselling British novelist, Georgette Heyer. 
In 2005 Random House UK published Georgette Heyer's Regency World, an illustrated companion to Heyer's 26 Regency novels, partly based on Jennifer's PhD. In 2011, after ten years of research and four years of writing, Jennifer was delighted to have Random House UK and Sourcebooks USA publish Georgette Heyer: Biography of a Bestseller.
Inspired by Heyer's witty and stylish novels, Jennifer has also written two Young Adult novels: The Cinderella Moment and The Rapunzel Dilemma, both published by Penguin Australia in 2013 and 2014. Cinderella Moment & Rapunzel Dilemma will be republished in 2021 with the third book in the series, The Snow White Rebellion, to complete the trilogy.
A personality in a sentence, a relationship in two and a whole world in a paragraph. There are so many scenes or lines of dialogue in which every word carries its weight in gold. It's another of the things I love about Georgette Heyer and, I suspect, one of the reasons she endures.
Join Jennifer Kloester at her next event for captivating interviews and panel discussions around Australia.
All Things Georgette Heyer