THE ENTERTAINER
A few years ago I heard Stephen Fry speak on stage in Melbourne. It was a one-man show and he just stood on stage and talked. Sound boring? It was anything but. It was one of the most compelling and entertaining shows I've ever been to. What struck me most was his incredible erudition. The man just knew so much about so much. That night I left the theatre feeling totally uplifted because he'd kept 2,500 people utterly enthralled for nearly two hours just by speaking intelligently to them.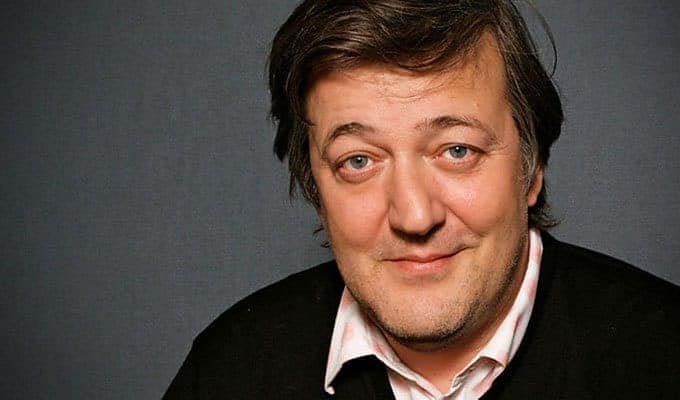 WONDERFUL WORDS
I met him briefly after the show and gave him a copy of my book Georgette Heyer's Regency World. His eyes lit up when he saw the title. 'Georgette Heyer!' he cried and leapt forward to take the book. Turns out he's a huge Heyer fan, which is not really surprising. She was a highly intelligent woman with an extraordinary grasp of her subject – the Regency. He's a highly intelligent man with a love of the period. She wrote brilliant dialogue replete with Regency cant and period vocabulary. He has an extraordinary way with words – both verbal and written. They both have a passion and an energy that shines through in their writing. You can see what I mean here.
A GREAT EVENT
In 2015 I met Stephen Fry again, this time in Wimbledon. English Heritage had honoured Georgette Heyer with a coveted Blue Plaque and Stephen Fry was unveiling it. We both made a speech – I about her life and achievements, he about her wonderful writing. Once again he was charming, urbane, intelligent and erudite. He spoke without notes because he didn't need them and his pleasure in the occasion was evident in every word as you can see here.
That day Stephen Fry magnificently fulfilled my long-held ambition to see Georgette Heyer properly recognised for her literary achievements. It was epic!