"As a plotter she has no superior."

J.H. Durston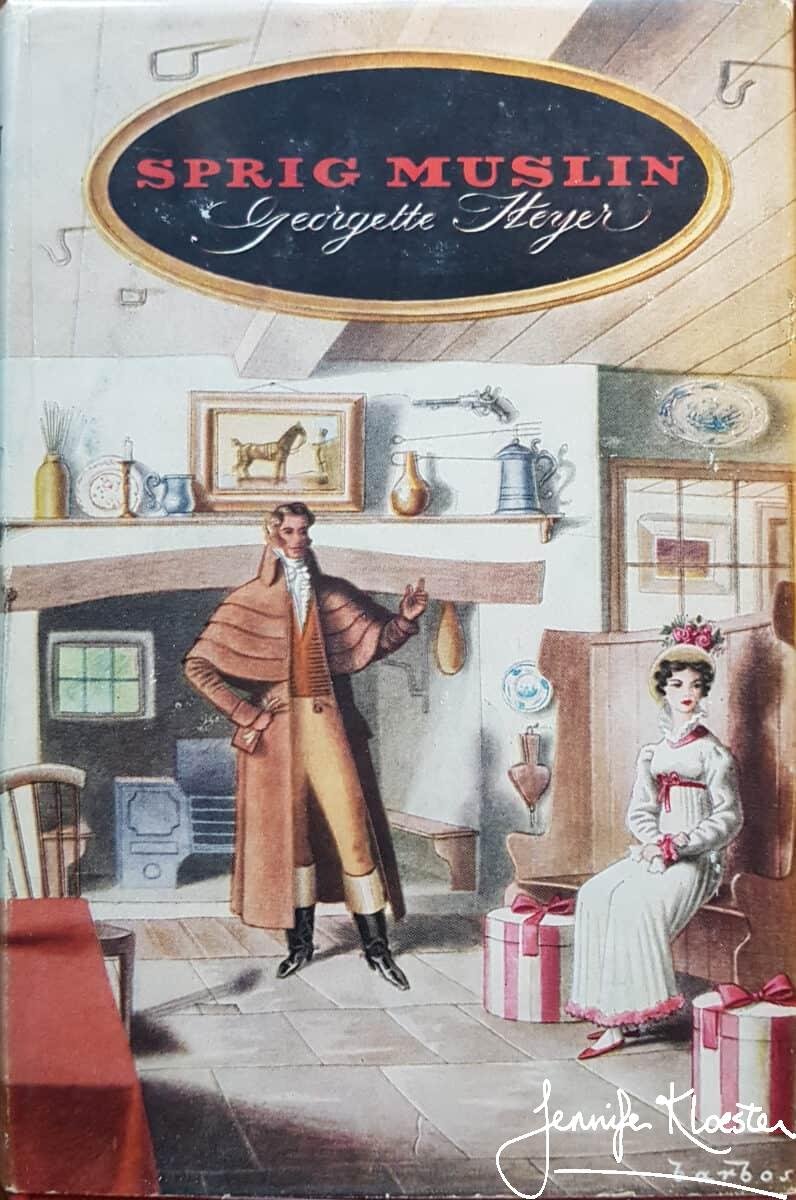 One of her finest heroines
I love Georgette Heyer's 1956 novel, Sprig Muslin, for many reasons, but the main reason is that the novel features one of her finest heroines. At first sight, there is nothing in either her persona or her circumstances to suggest that Lady Hester Theale might be the heroine of the story. Described early on as "a cipher", Hester appears to be an unassuming female: shy, quiet, and very much at the mercy of her awful family. Apparently with nothing in particular to recommend her, Hester has been passed over by life and circumstances and so, when the hero, the charming and amiable Sir Gareth Ludlow, that "matrimonial prize of the first rank", decides to offer her marriage, his sister, Trixie, is aghast:
"Gareth, are you hoaxing me? Tell me it's a take-in! Yes, of course it is! you would never offer for Hester Theale!" … "She must be nine-and-twenty if she's a day! – a woman who has been on the shelf these nine years, and more, and never took, or had countenance, or the least degree of modishness – You must be out of your senses!"

Georgette Heyer, Sprig Muslin, Pan, 1972, p.8.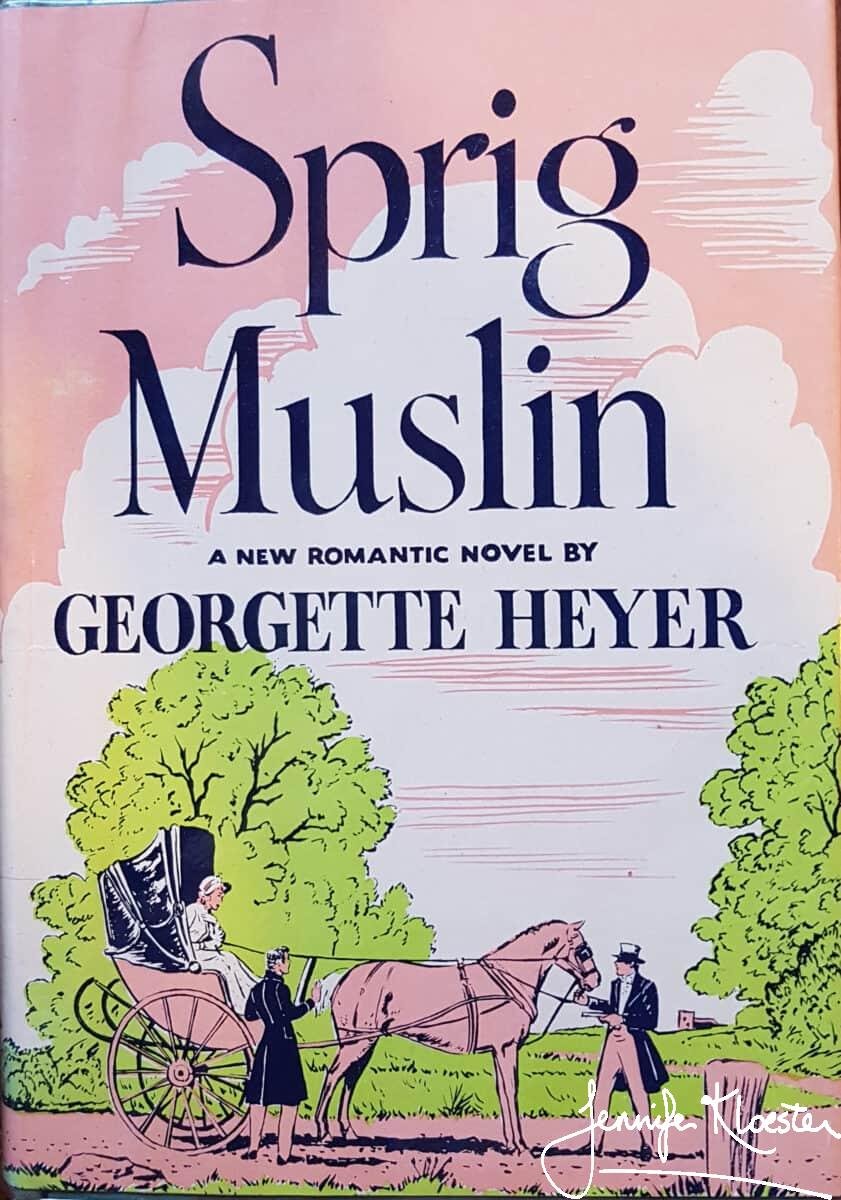 A gradual evolution
"I collect, that a word from a man in my position might bear weight with you." "

Oh, dear! I am sure it ought to," said Hester, in a conscience-stricken tone.

Georgette Heyer, Sprig Muslin, Pan, 1972, p.20.
But Trixie does not see all there is to see and neither – at first – does the reader. For, despite her "myopic gaze" and vague manner, Hester has a deep, hidden persona. She is intelligent and kind, a victim of her time, her gender, and her circumstances. All too well aware of her Duty to her family and conscious that she has failed to find an eligible husband, Hester has sacrificed herself on the altar of filial responsibility. She runs her father's house, endures his insults, tolerates the dull, stupid people with whom she must live, and makes the best of her boring, unadventurous life. Among Georgette Heyer's many brilliantly-depicted heroines, Hester is one of those whose deep, inner life we as readers are privileged to see. One of the joys of Sprig Muslin is the gradual evolution of Hester from passive female, with little to hope for and much to endure, into a woman whose intelligence, wit and wisdom all become clear when she is pitched into unexpected adventure.
"He eyed her with uncertainty, feeling that in some strange way she was eluding him. She had always been and obedient, even a meek, daughter, but he had several times suffered from the uncomfortable suspicion that behind the cloud of gentle compliance there existed a woman who was quite unknown to him."

The Earl of Brancaster to his daughter, Hester, in Georgette Heyer, Sprig Muslin, Pan, 1972, p.17.
A spirited young lady
"No, for I am a soldier's daughter, and I shouldn't be in the least troublesome, if only I could marry Neil, and follow the drum with him, and not have to be presented, and go to horrid balls at Almack's, and be married to an odious man with a large fortune and a title."

Amanda to Sir Gareth, Georgette Heyer, in Sprig Muslin, Pan, 1972, p. 29.
At first glance, Sprig Muslin seems to be a road-trip novel. Sir Gareth Ludlow, on his way to Brancaster Park to propose to his old friend, Lady Hester Theale, unexpectedly encounters a spirited young lady at a wayside inn. Amanda has run away from home in order to compel her grandfather to allow her to marry her military sweetheart before Neil is once again posted overseas. Amanda is not yet seventeen, but it soon becomes clear that she knows her own mind and is determined to see her plan through without interference. Sir Gareth, however, instantly recognises the obvious dangers attached to Amanda's plan to become either a governess or a chambermaid at any inn that will employ her. Faced with her stubborn refusal to tell him her real name or anything about herself that would allow him to restore her to her grandfather, Gareth insists on taking Amanda along with him to Brancaster Park. Given that his sole reason for visiting Hester is to ask her to marry him, this is a disastrous move. Amanda, is not only a romantic heroine in the best traditional sense, she is also enchantingly pretty, young and spirited – all of the things that (at first glance) Lady Hester is not. Sir Gareth's arrival at Hester's home with Amanda in tow, not surprisingly, causes every member of the household some degree of consternation.
"Well, what I say is that to set poor Hetty beside that bird of paradise is to ruin any chance she might have had!"

Lady Widmore to her father-in-law, the Earl of Brancaster, Georgette Heyer, Sprig Muslin, Pan, 1972, p.63.
An offer of marriage
Sir Gareth's intentions in offering marriage to Hester are entirely honourable and, to his mind, entirely sensible. His older brother has been killed at Salamanca and Gareth has since accepted that it is his responsibility to marry and have children to carry on the family name. He is not looking for love as, since the death of his fiancée, Clarissa Lincombe, seven years earlier, he has never again felt that kind of passion for another woman. Hester Theale seems an excellent choice for many reasons: he has known her for years, they are good friends, he values and esteems her, she is one of those rare people who doesn't shy away from mentioning Clarissa and he recognises that Hester is not, as he says, "valued as you should be; neither your comfort nor your sensibility is a matter of concern to any member of your family". Gareth knows that he can offer Hester a better life with a home of her own, independence, respect and affection. He believes they could be happy together. It is a good plan – or it would be – but for one problem. Unbeknown to Gareth, his proposal brings Hester only pain. Not merely because she must refuse him, but because it is the very thing for which she has longed but which she has always known to be impossible. The reality is that Lady Hester Theale is in love with Sir Gareth Ludlow and would sooner die than ever let him know her true feelings. She is convinced that he can never love her and it is because she loves him that she must refuse his offer of marriage. As if to corroborate her decision, when Gareth rescues Amanda and brings the pretty, spirited young lady to Brancaster Park and tells Hester that Amanda reminds him of Clarissa, Hester is convinced that he and Amanda will fall in love and this becomes another irrefutable reason for her to turn him down.
"I haven't come to you, dreaming of Clarissa!" "

I know – oh, I know!" she said, in a shaking voice. "But you don't care for me." "

You are mistaken: I have a very great regard for you."

"Ah, yes! And I for you," she said, with a pitiful attempt at a smile. "I think – I hope – that you will meet someone one day whom you will be able to love with all your heart. I beg of you, say no more!"

Sir Gareth and Lady Hester in Georgette Heyer, Sprig Muslin, Pan, 1972, pp.72-73.
"Georgette Heyer is playing games with her fans again, offering runaway Amanda's romantic story, gently mocked, as counterpoint to Sir Gareth's gradual falling in love with Hester."

Jane Aiken Hodge, The Private World of Georgette Heyer, The Bodley Head, 1984, p.117.
Lady Hester to the rescue
"I never meant to shoot him, I swear!"

"Oh, no, I am sure you could not have meant to!"
The middle of the novel deals with Amanda's attempts to escape Sir Gareth but her tales of abduction and persecution come to a sudden end when her would-be rescuer, young Hildebrand Ross, accidentally shoots Gareth and almost kills him. Fortunately Amanda is quick-witted enough to save him, but consequent events compel her to entreat Hildebrand to seek out Lady Hester and bring her to the small inn where Sir Gareth is laid up. The ensuing chapters relate Hester's gradual emergence into the woman so long suppressed. Here, Heyer is writing at the top of her game and the scene where Hildebrand arrives at Brancaster Park and must explain all to Hester is superbly executed. At no point in the novel does Heyer falter in her rendering of Lady Hester, who, while retaining all of her characteristic mannerisms and uncertainties, gradually finds the inner strength to act in support of the man she loves. Hester's evolution is a master-class in character development and the last quarter of the novel is one of the most satisfying in the Heyer canon. One of Hester's most endearing traits is her innate honesty and this leads to some very funny and memorable moments. And it is not only the reader to whom the real Hester is gradually revealed, but also to Sir Gareth. She attends him at his sickbed and little by little he becomes aware of the woman he has long thought of as a friend who, as he himself says, "Do you know, Hester, in all these years I have held you in esteem and regard, yet I never knew you until we were pitchforked into this fantastic imbroglio? Certainly Amanda is wonderful! I must be eternally grateful to her!"
"The concluding scenes show her writing at the top of her form, combining high comedy with strong feeling, and leave one with the kind of satisfaction one gets only from the best, from a Shakespeare comedy or a Mozart opera."

Jane Aiken Hodge, The Private World of Georgette Heyer, The Bodley Head, 1984, p.117.
"Her virtues as a story teller are many. As a plotter she has no superior. She has a masterful hand with two character types that will remain irresistible as long as people read: the fascinating rake who is as much villain as hero and the magnificent girl who is always ready to cope with men on their own terms. Miss Heyer is wise enough to stick to Regency England (what novelist could exaggerate the careers of Beau Brummell or Lord Byron?), and she is tasteful enough to puncture with a single flash of wit every situation that builds up to intolerable sentimentality. There is no reason to suspect the scholarship in her picture of her chosen period, and, indeed, it is altogether possible that she conveys the spirit of those times more ably than many a serious historian."

J.H. Durston, House & Garden, (USA), October 1956, p.3.