A memorable meeting
In a memorable meeting, I first met Jane Aiken Hodge early in 2002. I had travelled to England for what was to be the first of several marvellous research trips to further my PhD research about Georgette Heyer, her life and writing, and was eager to meet Heyer's first biographer. Jane's excellent biography,The Private World of Georgette Heyer, had given me my first insight into one of my favourite authors and I was keen to meet the woman whose book had helped to bring the very private Georgette Heyer into the open. I'd written to Jane asking for an interview and she very kindly invited me to lunch at her home in Lewes in Sussex. I was very nervous but Jane made me very welcome and we spent several hours over lunch and afterwards in her garden discussing all things Heyer, Jane's extensive research and her own writing career. Jane Aiken Hodge was not only a successful author in her own right but she also had a fascinating literary pedigree: her father was the famous poet, Conrad Aiken, and her sister was the beloved children's author, Joan Aiken. I had grown up reading Joan Aiken's novels and The Wolves of Willoughby Chase had been one of my favourite books. A highly intelligent person, Jane was quick-witted and perceptive – qualities which enabled her to bring the unknown Georgette Heyer into the public eye for the very first time. Jane was also incredibly generous and she gave me a gift I shall never forget.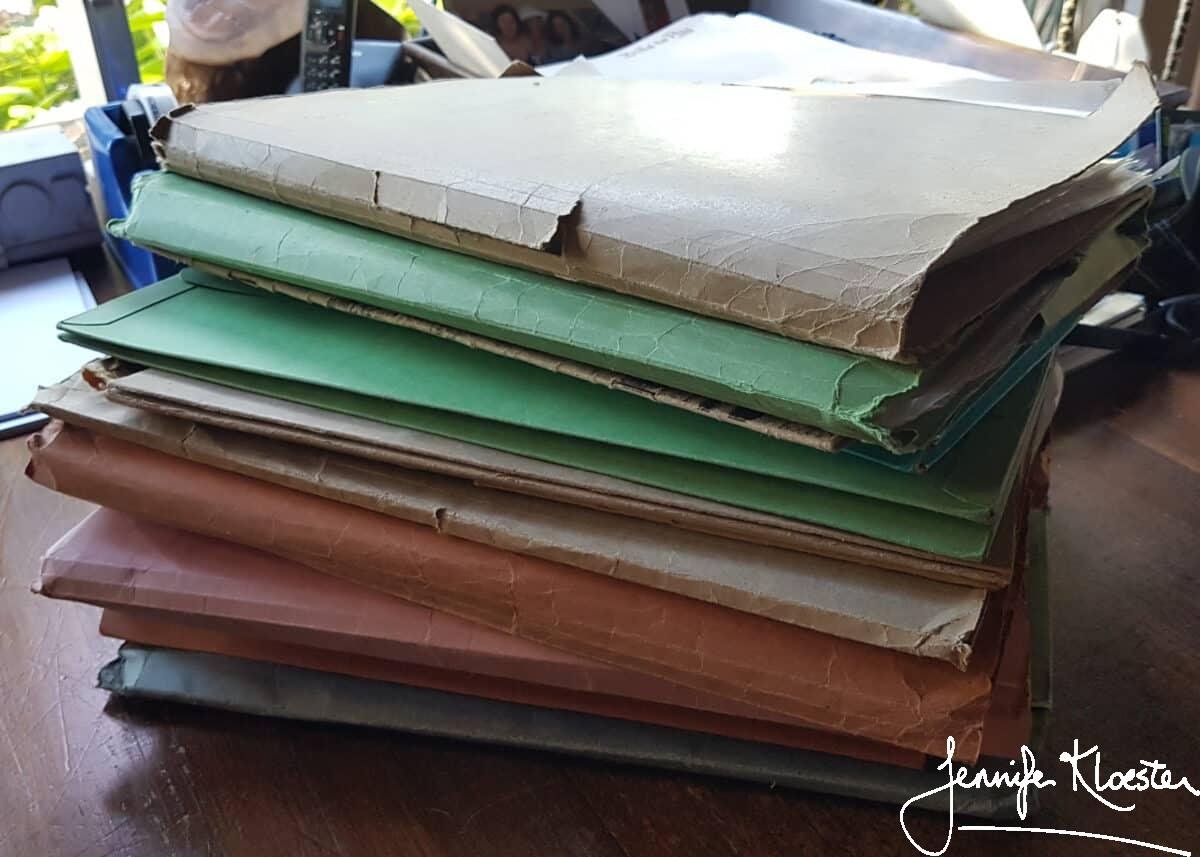 Jane's research files
When I arrived at her house that day, one of the first things Jane said was: "I've asked my housekeeper to bring my research files down from the attic" – she gestured to a pile of coloured manila folders on her dining table. "I thought you'd like to take a look at them" (understatement of the year!). But first we had to have lunch and we talked so eagerly through lunch and afterwards that before I knew it, it was time to leave. She ushered me back into the dining room from the garden and I quickly opened the first folder. There in front of me were original letters written by Georgette Heyer to her agent, Joyce Weiner, many of them typed and some hand-written, but all with her characteristic signature. I couldn't believe it! Nor could I believe that I had to leave without having scratched the surface of the contents of those twelve folders! It was agony knowing that here was a treasure trove of information and I'd run out of time. I wasn't sure whether I would have time to return or even if Jane would be willing to have me back for a second visit.
"Take anything you want"
I'd just opened the second folder when Jane said kindly, "Take anything you want." Wow! Well, it was a very generous offer, but I was an academic researcher studying for my PhD and I knew that to break up an archive and thereby lose its original context and full import was something of a cardinal sin. I thanked Jane, refused politely and regretfully closed the folder. I was getting ready to depart for the station in order to take the train back to London when Jane suddenly said, "Look, why don't you take it? Take the lot!" I gasped and had begun to stammer out all the reasons why I couldn't possibly do such a thing, when Jane darted out of the room, returning a minute later with a Swan Hellenic cabin bag in her hand (I still have that bag). She dumped the bag on the table pushed the folders inside it, zipped it up and shoved it into my arms. I was almost speechless as she escorted me to the front door, and when I managed to stutter a few words of thanks she waved them away, opened the door and saw me on my way. I hugged that bag all the way back to London and if someone had offered me the crown jewels in exchange for those folders I would definitely have said no!
Informative, entertaining, and remarkably perceptive
I have always been impressed by Jane Aiken Hodge's biography of Georgette Heyer because, despite the limited primary material available to her at the time, Jane still managed to write an informative, entertaining and remarkably perceptive account of one of the world's most reclusive bestselling authors. Jane had the family's support for the biography – Georgette's son, Richard Rougier, was keen to see his mother's work formally recognised and he cooperated with Jane, granting her access to his mother's private papers,her research notebooks and the remnant of her vast research library. Richard also encouraged those who had known Georgette best to speak to Jane – both friends and family – and they did. Jane wrote a wonderfully honest Foreword to her biography in which she questioned whether one should in fact "Try and look behind the curtain of privacy in which she shrouded herself?" but as she began to talk to those who had known Georgette, it appeared that they welcomed a book about their friend; it was Heyer's letters that settled it for Jane, however, for as she said,
"She may have been a private person socially, almost a recluse, but on paper she was a compulsive communicator."

Jane Aiken Hodge, The Private World of Georgette Heyer, Pan, 1985, p.10.
Jane's achievement
What makes Jane's achievement so remarkable is that, despite only having Georgette's letters from 1944 onwards, her biography proved remarkably discerning. Many of the ideas, theories and deductions which Jane postulates in The Private World of Georgette Heyer were later proven to be true and yet Jane only had Georgette's letters dating from 1943 when Heyer was 41 and already an established author. Twenty years later, several new, untapped archives of her letters would become available (I was extremely fortunate to have access to Heyer's letters dating from as early as 1921, when Heyer was eighteen and had just received her first pubishing contract) and these additional archives of nearly 800 letters would shed much more light on her early life and writing and would even upend several longstanding family legends. The absence of this vibrant new material did not stop Jane Aiken Hodge from writing an insightful, valuable account of Georgette Heyer's life and writing, however. I have long been impressed by how many of Jane's postulations about Georgette's life, attitudes and actions that, with the evidence that came to light two decades after she wrote The Private World of Georgette Heyer, proved to be entirely correct. Faced with limited material, in order to write her biography, Jane read all of Georgette Heyer's novels in chronological order, an experience she described as "rewarding" as "Well as delightful". Heyer once said: "You will find me in my work". Certainly Jane Aiken Hodge did so and to fine effect.