So I finally reached tipping point. For years I've weeded the steps leading to the lawn because they have earth treads and weeds thrive in them. I was pulling out thistles when I threw down my fork and trowel and said, "That's it! We need something permanent." When my better half protested, I explained that I wasn't wasting another hour of my life weeding the steps. "We need a bricklayer." Hmm. Easy to say, but not so easy to find a bricklayer who a). turns up, b). actually quotes the job and c). has any sort of vision for what these steps might look like. A couple of guys came by, but they weren't really interested. Weeks passed and nothing. So, I did what any intelligent person would do when faced with a seemingly insoluble problem … I talked to my greengrocer.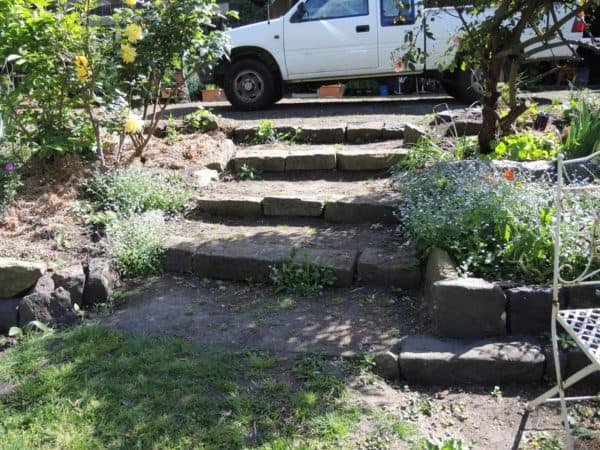 THE INCREDIBLE BRICKIE
Turns out his son is a trained bricklayer (a "brickie" as we call them Downunder) who loves working with stone. Sounded great so I called him, he came over and we talked. Incredibly, he seemed interested – even keen. We agreed on a concept and a price and a few weekends later he began work. Boy, did he work. In addition to replacing the steps I'd also figured that the two badly-built dry stone walls might as well be properly built. And while we were at it we'd enclose the two right-angled walls with a stone terrace.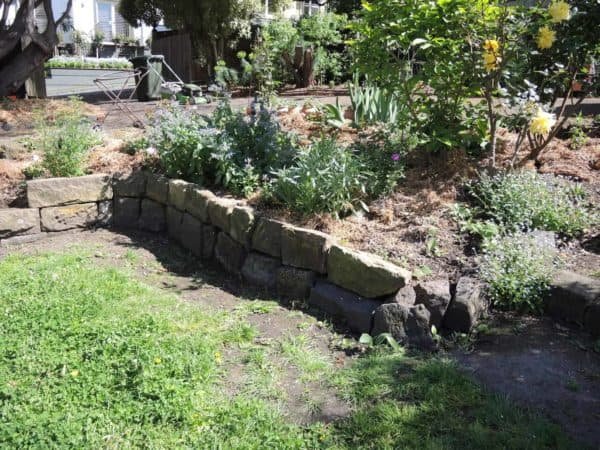 A GARDEN REVOLUTION
So Chris laid sight lines and began digging. It was incredible to watch. He must've removed at least fifty huge wheelbarrows of soil from the site. The height of the nearest garden bed lifted at least eight inches with all the dirt. It was awesome. So the old stone walls disappeared and the foundations for the new walls and the terrace appeared in their place. I am quietly excited.